Los Angeles To San Francisco, U.S.A
Hello Everyone!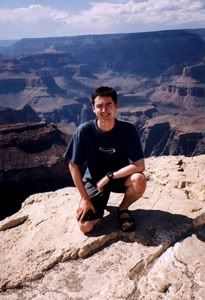 How are you all, I am doing great! I am now in U.S.A. Leaving rainy Auckland on 22nd June, I arrived in Sunny Los Angeles 7 hours before taking off (because I crossed the international date line) – very long day! I had to pay to leave New Zealand – how wierd is that! If I didn't pay, I couldn't leave! I have managed to visit Los Angeles, Grand Canyon, Las Vegas, Yosemite National Park, and San Francisco – I have been very busy!
As I said, I arrived in USA – L.A on 22nd June (Did you know that 10% of 18-24yr old americans don't know where the United States is on a map?), I spent quite a few days here, not sure why as its a dump! There was plenty to see and do when I was there though. My hostel was just off the Walk of Fame on Hollywood Blvd, I thought it was a pretty classy street before visiting, but its a total dump! I couldn't believe David Hasslehoff has a star on the walk of fame, but I found an explanation – apparently the celebs pay $15,000 to have a star, they aren't given them! Further along the street is the Kodak Theatre (where the oscars are held) and Mann's Chinese Theatre – doesn't look as good as you think! There are lots of wierdos in L.A – only took 30 seconds to pass someone in the street who was talking to himself! I also went on a tour of Bel Air and Beverly Hills to see the stars homes. I got to see a lot of homes, well, the fences and bushes of the homes. We even got chased from the entrance of one home, the security guard had a pistol. The highlight of the tour for me was going past 'The Fresh Prince of Bel Air' house! No sign of Uncle Phil though. We also went to Rodeo Drive – a posh street for posh people in case you didn't know – If you have seen Pretty woman, its the street Julia Roberts goes to and gets thrown out one of the shops. I didn't even attempt to go in the shops, I would have been thrown out immediately as they would have known I don't have the money to buy anything there! I did spot Mark Wahlberg driving his bentley – only celeb I managed to spot!
I also went to Universal Studios Hollywood while in L.A. I went with a few friends from the hostel – Sally, Kerry, and Brian, which was good! It was pretty busy as it was the first day of the kids summer holiday. Still managed to go to all the attractions, and had a superb time. Another day, I went to Venice Beach with a Shawny, pretty famous beach, I'm sure you have heard of it!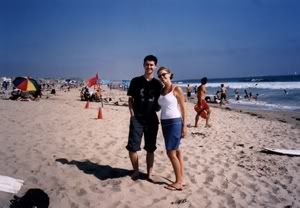 Also had a good night out at Universal City Walk (nicer area to go out than Hollywood!) with Kerry, Sally, Brian and Shawny.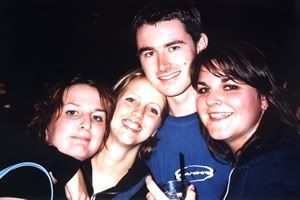 L.A was a dump and I was quite pleased when I left on 28th June to start a 7 day camping tour I had booked onto. I was travelling with 12 other people plus the trek leader for the next 7 days in a van. Sadly the Male/Female ratio wasn't too good as there was 11 men and only 2 women. It turned out ok in the end though as it turned into a lads road trip really! There were 3 people from Australia, 6 from the U.K, and 1 each from Germany, Sweden, Poland, and South Korea. During the 7 days the main stops were Grand Canyon, Las Vegas and Yosemite National Park. But for the first day we stopped in a place called Lake Havasu – its basically a controlled area of the Colorado River that is wide enough that people call the area Lake Havasu. It was BOILING HOT here!!! Don't know why we slept in the tents, only made it hotter! We visited a place near by – London Bridge! Tat! Apparently its the original London Bridge we saw, obviously there was a big red bus next to it, didn't notice any castles though.
The following day was something I had been really looking forward to – The Grand Canyon! We were camping in the park for the night – It was superb seeing the canyon! Photos don't do it justice! You have to see it with your own eyes! Its amazing!
I also managed to get another view of the Canyon from above, in a Helicopter! I have never been in one before – Superb! Best money spent on my trip! They have a IMAX theatre just outside the park and I went to see a film about the Grand Canyon there – very good actually. Also watched sunset at the edge of the canyon while eating pizzas for dinner – classy eh. The next morning I got up early to watch sunrise – it wasn't a struggle getting up at 4:30am as I had been awake since 3am freezing cold!!! Bit of a difference from the night before!
Then it was time to leave Arizona and travel to Nevada and Las Vegas!! We were staying in quite a decent hotel for 2 nights, one block from the main strip. Guess how much it cost for 2 nights in total??? …….. $19!!!!! Bargain or what!?! Cheapest I have paid on my trip so far for any accommadation! (even including South Africa).
Las Vegas was hot – obviously, its in the middle of the desert! Our first night there was superb (I need to find new words to say how great things were- need to stop saying the word 'superb'). We all got in a limo and cruised down the strip – I thought I was dreaming!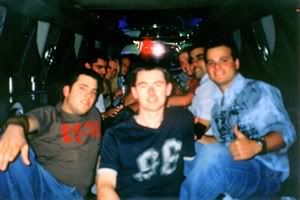 We ended up outside the Bellagio, we watched the fountains dancing to the music – you know, like at the end of the film – Oceans 11!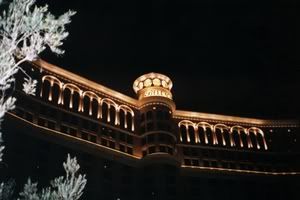 Didn't do any gambling that night actually, just went to a nightclub in the MGM Grand – great night! The following night I went on a ride at the top of a tower called the Stratosphere (immediately after catching one of the cheap dinner buffets you can get in any of the hotels) I managed to keep the food down – just! The ride launched you up a big pole and then you dropped back down again – scary at the top of a tower, but the view of las vegas by night made it great. Gambling took place in The Venetian, and then The Bellagio – I left with less money than I walked in with, I'm sure most people do! I managed to get several free drinks in the bellagio though – happy days. Las Vegas was wierd and wacky, I thought it was great! (what does that say about me?!?!)
After Las Vegas, it was a long drive back to California, and Yosemite National Park. Spent two nights camping here, got bitten to death by the mosquitos….I suppose it was better being the mosquitos instead of the bears biting me to death! Yeah, bears – they roam around the area – we even had to put our wash bags in the van with the food so there were no scents/smells around the tents, otherwise I might have woken up with a bear attached to my head or something like that. Some of the guys in the group went searching for bears with leftovers of the BBQ on the last night, yeah a bit crazy! They didn't find any though! While at Yosemite, I went on a mad hike! 7 miles in total (return trip), basically 3.5 miles up the steep valley, and then 3.5 miles back down.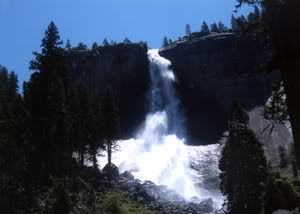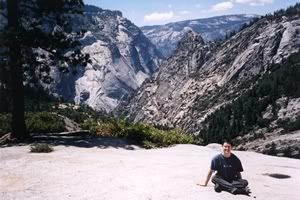 It was a crazy hike, a couple of us got lost half way up – in a area known for mountain lions aswell as the bears, then I nearly lost my daypack to the river – thanks to Nik for alerting me to the fact my daypack was rolling down the hill! I darted across quickly and made a good save. We found the correct way eventually and completed the hike – was quite pleased with myself actually – it was quite a mission!
We arrived in San Francisco ending the 7 day trip, on July 4th – Independence Day. U.S. flags everywhere you looked! We all went down to fishermans wharf that night to watch the fireworks – it was a waste of time because it was so foggy – all you saw was the fog changing colour.
Been staying in a hostel, decent location, near the centre. The dorm room has stunk all week, its vile. (Sorry, I needed to vent!!! – is that a pun?!?), haven't found out what the smell is yet, but if I tell you that there is a French guy in the room – does that help?
I went to Alcatraz the other day, I was stupid and didn't book a ticket in advance like everyone told me to, but luckily they have a 'standby line' – and with a bit of luck by noticing a couple of friends near the front of the stand by line, I didn't have to wait long to get across to the island.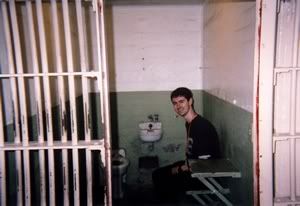 It was really good, did an audio tour of the cell house, and also found out about the escapes of Alcatraz.
Also been to Chinatown which is apparently the second most populated area in the U.S. – I don't know where I get these facts from. I paid a visit to Pier 39 at fishermans wharf too, and even though I suppose I am a tourist, it was way too touristy for me!
The Golden Gate Bridge has been covered in fog all week, but today I managed to see it properly, fog free! Its big.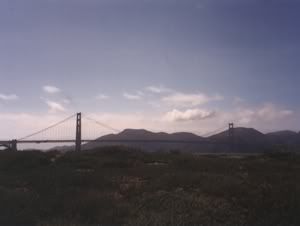 I knew San Francisco had steep roads but they are mighty steep!!! Its crazy!!! Been on a tram, had to really! The tram drivers are nutters. I'm surprised I haven't seen anyone knocked over by a tram or a tram crash into a car – I am seen several close calls though! While I'm at it, the taxi drivers here are nuts too. They blame it on the one way system San Fran has, but thats rubbish, they are just bad drivers!
Tomorrow, I catch a flight to Dallas in Texas – more than half way across the country. But thats only because American Airlines are stupid, 2 hours later I catch a flight back towards the direction I came, and I'll be arriving in Seattle. Then I'll be going across the border the following day to Vancouver – from there, its a bit unplanned at the moment! I am also looking into going to a Liverpool friendly in of all places – Toronto at the end of July, they are playing Porto, yes, in Toronto, Canada.
I have shortened my trip slightly so I'll be home sooner than I originally planned – 18th August. Still visiting all the places I planned to, I just planned way too many days in each city.
My next update will be in late July – about 2 weeks time, telling you about my travels around British Columbia in Canada. Hope all is well back home, and again thanks for all your comments – the two or three of you 😕 .
Speak soon
Terry 😀
P.S – Give me some decent crisps and chocolate, thanks.