British Columbia & The Rockies, Canada
Hello Everyone!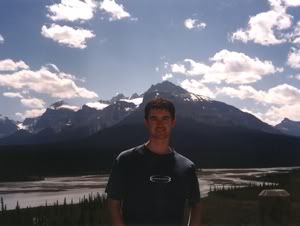 How are you all? I'm doing just fine! For the last two weeks or so I have been in Canada, British Columbia to be exact, with also a brief visit into Alberta (and another time zone) to see the Canadian Rockies!
I arrived into Canada by bus, via Seattle. I arrived into Vancouver on 11th July, its known as 'The World's Most Liveable City' – another little bit of info for you! The first night was great as I managed to meet up with 4 friends from my travels, Sally, Brian, Janine and Louise. I have actually bumped into Sally in 4 of the 5 countries I have visited, small world eh? It was good to see some familiar faces!
Vancouver is a very nice city, just as I expected it to be. The people are very friendly too. All during my trip, other travellers have told me how great Vancouver is, infact Canada as a whole! I'm not going to disagree with that.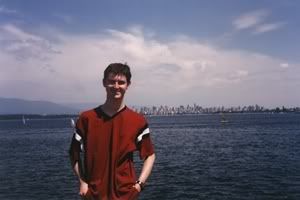 During my time in Vancouver, a couple of us hired bikes and cycled around Stanley Park (a 404 hectare evergreen forest), then over Burrard Bridge to Granville Island (good market there but everything else was too touristy), then down to Jericho Beach (the trendy beach of Vancouver), didn't go to Wreck Beach though. Didn't feel upto seeing wrinkly old naked people. Hiring the bikes was a great idea, the majority of the ride was on cycle tracks, but we did have to ride on the road at some points – canadian drivers love cyclists. They don't use their horns, they don't say 'Oi! Get off the road!', they just happily sit behind the wheel of their car happy to cruise at bike speed – THAT WOULD NOT HAPPEN AT HOME! Drivers love pedestrians too – the cars just stop to let you cross, when normally back home you have to wait for the cars to pass – no pedestrian crossing to be seen! – Bizzare. Also while in Vancouver, I spent a day at English Bay, down on the beach, just relaxing reading a book, YES!!! ME READING A BOOK! Amazing isn't it.
Met some interesting people at my hostel in Vancouver….
– A guy was showing me his Vancouver Island photos, along with the usual scenery photos, it seemed he had a unhealthy fascination with Fire Hydrants of Vancouver – there must have been 15 photos of different Hydrants, different colours. I didn't ask why he had taken them, but I was dying to know.
– A guy travelling around the world in his Land Rover from the U.K, been to 35 countries so far.
– A guy who had just finished a kayaking holiday, he was showing me some of his photos – him kayaking off massive waterfalls – nutter!
On 15th July, I left Vancouver to go on a trip to the Canadian Rockies, it was a 6 day trip. 12 people. During the trip we stayed in some interesting unique hostels….
– In a place called Squilax on the banks of Shuswap Lake, the dorm rooms were converted train carriages – known as Cabooses
– At a place called Mt Edith Cavell (just outside the town of Jasper), we stayed at a very remote hostel, so remote that when its winter, the only way to get there is by skiing. Anyway, the hostel had no running water, no electricity, and lovely long drop toliets that smelt of a summer meadow. Actually, I lied about the summer meadow part, but maybe saying that it smelt like a summer meadow full of cows – would be more nearer the truth. Also it was in grizzly bear country, we were all worried that if we needed to go to the toilet outside during the night, we would be wrestled to the ground by a grizzly and savaged to death for his midnight snack.
– In a place called Kamloops – the hostel was a converted courthouse, it still has the courtroom in place, and apparently its haunted.
Before I tell you about the Rockies, I have to tell you about some of the small towns we passed through on the way….
'Hope' – where Rambo was filmed, also the Wood Carving (with Chainsaws) capital of canada – some marvellous wood carvings here. I hope you sense sarcasm there. Also witnessed two great arguments (from afar) while I was there (only 30 minutes). I had high hopes one of the arguments would kick off into a brawl, would have been great to watch, but sadly I left disappointed.
'Lytton' – 'The hottest spot in Canada' it says as you enter the town – they even have a little concrete spot that you can stand on, on the hot spot – how cute.
'Kamloops – we passed by a local tv cameraman, and our bus driver asked him if we could be on tv, saying how great Kamloops was or something, but the big news story of the day couldn't be beaten – a piece about 'Flowers in you community' – so we left him filming a flower bed.
Anyway the Rockies!
Great just great, I saw some amazing scenery, I won't bore you with all the names of the places as you won't know them, but the main places were Lake Louise – big aqua blue lake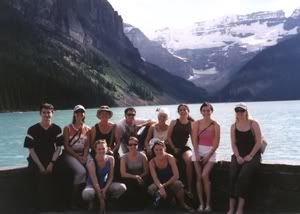 Columbia Icefield – we actually walked up a small section of it, without spikes – crazy! My favourite place was a place called 'Peyto Lake' – stunning.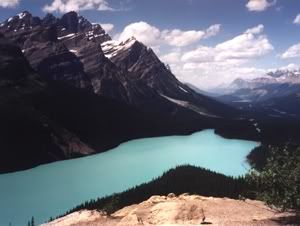 Also went to Emerald Lake and went Canoeing, it was so peaceful.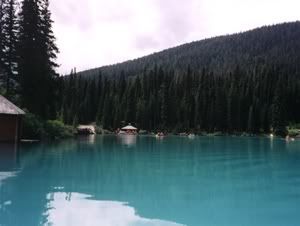 One last thing about the Rockies, we stopped in Jasper to get food and drink for a group meal that night, we parked up outside McDonalds (and no, McDonalds wasn't our dinner!) Anyway, guess what? Two girls were taking photos of each other with the McDonalds in the background. WHY!!?!?!!??!? Who knows, but it baffled me. I won't tell you the nationality as you'll be able to guess easily.
Since then, I arrived back in Vancouver then caught the ferry over to Vancouver Island, and the capital of B.C – Victoria. Its quite a British city actually, just from the look of the place! I went whale watching while over there, I missed out in New Zealand because of the weather. It was a great day, it was so hot (a cab driver was telling me it the hottest day in Victoria since 1940), saw plenty of orca whales, although from a bit of a distance away, it was great to watch.
During my time here, the mosquitos have cruely attacked me. While in the rockies especially, I counted 14 bites alone on the back of my neck. Even worse when your neck is sunburnt. I looked like a freak.
Anyway, I have to escape from this internet cafe, too many sad people paying money to play internet games all day. Tomorrow I catch a bus back to Starbucks – it used to be known as Seattle. After a couple of days there its then off to Chicago, and I'll be in Toronto by next weekend. Thanks again for your comments, been great receiving them. Also was very shocked by the I Love Terry fan club. I'm touched. 😛
I will update again in a week or so, before I head off to Boston.
Terry 😀
P.S – Not long left until I'll be eating some decent crisps.