Seattle & Chicago, USA + Toronto, Canada
Hi Everyone!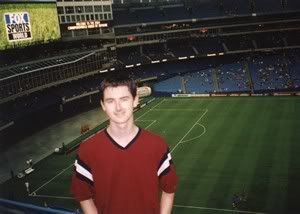 How are you all? I am doing fine! I have had a busy 10 days or so! Been hopping in and out of USA and Canada a few times! Since leaving Vancouver, Canada I have been to Seattle, Chicago and Toronto. I am now back in USA in Boston.
For those too lazy to read my long updates, here in brief is what I have been upto lately..
3 cities, 3 tall buildings, 3 sporting events, 2 firework displays, and 1 big famous waterfall.
For everyone else……
I left Vancouver on 25th July to head back across the border to Seattle, it was a pretty interesting trip back as we were indirectly pepper sprayed thanks to a someone else in the area kicking up a fuss and a strong gust of wind in our direction. Nice. We were coughing up our lungs for a short time. So anyway, Seattle is in the state of Washington, and is the coffee capital of the world – its where Starbucks started. Another fact for you – There are 350 starbucks in just in Seattle, slightly more than Liverpool's 2. You might think 350 is a lot, but there are a lot more other coffee shops too! I knew I had to go and buy a coffee while in Seattle, so I went the whole way and went to the first ever Starbucks. Yeah, sad I know.
There is an area in Seattle called Seattle Centre (or 'Center' to the yanks), A complex created for the 1962 World's Fair. The main attraction is the Seattle Space Needle, a tall tower like structure 605ft (too lazy to convert it to metres for you).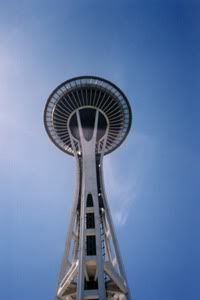 I got a great view from the top – got a great view of Puget Sound and Lake Washington along with Mt Rainier in the distance. Click here >> for more info on the Seattle Centre.
Other attractions I got to see included in the package at Seattle Centre included EMP (Experience Music Project – a Music Museum) and SFM (Science Fiction Museum). The EMP was brilliant! Best Museum I have been to on my trip. Lots of interactive things, and it was great to see that they had a Beatles exhibit there! Click here >> for more info on the EMP.
Also while in Seattle , I went to see an IMAX film about Mt St Helens Eruption – very good, and also went to the famous Pike Place Market – a traditional farmers market. Click here >>[/url] for more info on the Pike Place Market.
Anyway its time for me to tell you about some wierd things about Seattle….
– The homeless people here are so funny, they walk, talk, and act like zombies! – I think coffee might be the reason why. A few of them are honest too – one guy had a board basically saying that he needed drugs and then below it said 'Hey, at least I'm honest!'
– A guy I shared a dorm with is a professional frisbee player. I didn't know you could play frisbee as a game/match! It has similar rules to Netball if you were wondering.
– While around Pike Place Market, I stopped to listen to 4 gospel singers – they had superb voices. Anyway they were busking and selling a CD they had made themselves. One of the guys held up one of the CD's saying 'Its all on here, all your gospel favourites!' – I couldn't help but laugh, especially after hearing the last song 'Dial 1-800 J – E – S – U – S !'
I really enjoyed Seattle even though I didn't really meet anyone there to hang around with, its a nice city, for me, better than San Francisco.
On 27th July I flew to Chicago. Chicago wasn't originally in my plans before this trip but I'm glad I added it at the last minute. Its a great city and as my Lonely Planet says – is a gem of the mid west! Its obviously very famous for its buildings and I can see why, each one is so different, different colours, shapes and sizes. The tallest building in Chicago and the 2nd tallest in the world (but they argue that its the 1st) is the Sears Tower. I wanted a good photo of this, and to do this I went up another fairly large building (2nd tallest in Chicago) called the 'John Hancock Centre' ('Center' for the Yanks). Its an amazing building itself and is sadly overshadowed because it shares the skyline with the Sears Tower. Superb views to be had from the 94th floor though, amazing! Click here >>[/url] for more on the Sears Tower.
I went to a Baseball game while in Chicago too! I had planned to go to a Chicago Cubs game all the way through my trip, but they were playing away for the days I was there, so I went to see the Chicago White Sox. They were playing the Minnesota Twins.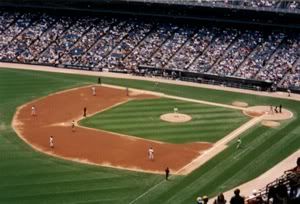 Very close game, ended 5-4 in an extra 10th innings (Bet that means a lot to you). I have to say though, the Baseball game seemed secondary to the fans in the stadium, everyone was too busy eating their hot dogs, and watching the big tv screen guessing which cartoon pizza would win a race!!! (VERY LONG STORY!). Worth going to though, really enjoyed it!
Also while in the Windy City I …….
– I went on a Lake and River tour (As you must know Chicago is situated beside one of the Great Lakes – Lake Michigan) – taking in the Architecture of Chicago, well worth it.
– Went to the tacky 'Navy Pier', really just to see the free Fireworks display, which was surprisingly very good! From the pier I also had a great view of the Chicago skyline by night.
In Seattle and Chicago and even yesterday here in Boston, I keep getting asked by Democrats in the street "Do you want to help defeat George Bush?", I don't know why I keep getting asked! Either I don't look like a tourist (which is good), or I look American (not good).
On 30th July, I again got on a flight to Toronto, Canada. Canadian customs thought I was dogdy and searched my bags which was nice. I had changed my flight date for Toronto to get there in time for the Liverpool Match! They are playing in a friendly tornament at the moment across North America along with other European teams. When I arrived I couldn't believe the amount of RED I could see walking around Toronto! Liverpool shirts everywhere, and listening to the people, most were Canadians! I didn't realise Canadians loved football! (NOT SOCCER!).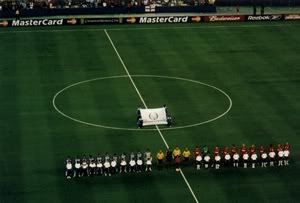 Considering I had the cheapest ticket you could get I was very pleased with the seats me and my stalker had (I'm joking about the stalker thing! We just keep bumping into each other!). Right on the half way line. Sadly we lost 1-0 against Porto, but I enjoyed the game and the atmosphere! Good to see our new striker Cisse and the New Manager too.
The following night, Celtic was playing Roma. I decided that as I wasn't doing anything else I would go and see that too! Great Atmosphere! Very close game, Celtic missed some sitters though. Enjoyed it near the end when a Celtic fan ran on the field and did a little jig, before dodging all the security staff chasing him for a good length of time. That got the biggest cheer of the night.
As well as catching the football matches, I was also fortunate to be in the city during a Caribbean festival. 'Caribana' is a massive festival in Toronto, and I found out that there was a parade on. Headed down to the parade route and after waiting a while the parade started and I have to say it was quite good to watch!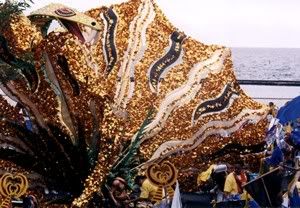 I even tried some Caribbean cuisine while I was there too. Very nice! Click here >>[/url] for more on Caribana.
One of the major reasons for going to Toronto was for easy access to Niagara Falls! I went on a day trip there! Long day as we were staying until dark to watch the falls lit up along with the fireworks display! On the way we stopped off at a few places, a winery (for a mini wine tasting), and Niagara-On-The-Lake (small posh touristy place). It was a busy day traffic wise and we were cutting it fine to catch the famous 'Maid of the Mist' boat. We caught the last boat of the day, got kitted out in rather fetching blue ponchos, and set off on the 30 minute ride. I have to say that it was brilliant!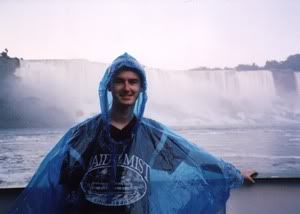 Getting so close to the falls was amazing. Again, photos or video clips of the falls don't do it justice. Amazing.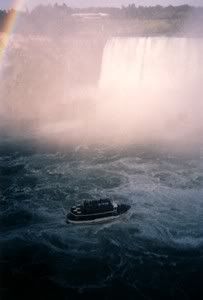 While waiting for the lights to be turned on, lighting up the falls we headed up Clifton Hill – a majorly tacky place! It reminded me of a mini Las Vegas, with all the neon lights. This is only a couple of minutes walk from the falls. Couldn't believe it. The Falls lit up at night was really good, and the long day ended with a decent fireworks display! Click here >>[/url] for more on Niagara Falls.
When you think of Toronto, you think of the CN Tower, the tallest tower in the world (according to them). So I had to go up at take a look – the third very tall building/tower I had been up in a week. Obviously with the security that goes along with big attractions like this, you have to walk through a metal detector – which is fine, but I didn't understand this one – you stood in it for about 10 seconds while shots of air were fired at your body! Not sure why! Cooled me down though as I had found Toronto very very very very very humid.Click here >>[/url] for more on the CN Tower.
So, a very busy 10 days! I am currently in Boston. Here until Saturday, While here, I will
– Go to a famous bar and ask them if they know my name (Well done if you know what i mean),
– Pretend to be clever and go and visit a certain University,
– Find out about Tax on Tea and parties.
– Walk about 2.5 miles learning about American History
Then I head to Washington DC, not sure how yet, but it will be an adventure. I will be in New York City by early next week, at which point I will tell you about Boston and Washington DC.
(Bet you can't wait eh?!!! – for my updates to stop that is)
I have now been travelling for just over 200 days. Just under 2 weeks left until I arrive home.
As usual, thanks for the e-mails, keep them coming. Speak soon
Terry 😀