Boston & Washington D.C, USA
Hello Everyone!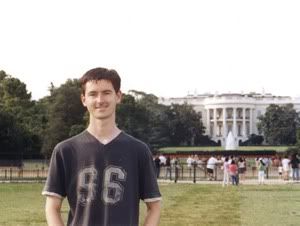 Hope all is well back home! Yet again, I have been busy – In the last week I have managed to visit the historic city of Boston, and the government centre and capital of the U.S. – Washington D.C!
I left Toronto, Canada on Tuesday 3rd August and arrived in a very hot and humid Boston. I had a great time on the crowded subway train from the Airport to the hostel. Getting off at my stop with my huge rucksack (I call it my house) was a mission.
While in Boston I managed to do quite a few things. First major thing I visited was in an area called Cambridge, on the north side of the Charles River. The reason for this was to see Harvard University! I went on a free tour of the University which was very good actually, found out that not all people that go to Harvard are A grade students! Also it costs $40,000 a year to study here, doesn't mean everyone there is rich – a lot have financial help (70% of the students). 6 presidents have studied at Harvard, I'm pretty sure the current one didn't…… Just a guess. Click here >>[/url] for more on Harvard University.
Another thing that I did in Boston was follow a red brick line around the downtown area. No really, I did. This was because this line links up many historic buildings around the area, its known as the Freedom Trail. One of the major buildings was the 'Old South Meeting House' – this is where the Boston Tea Party 'kicked off'!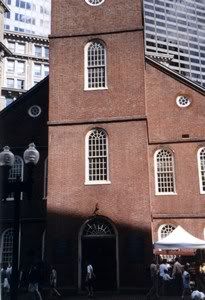 After their meeting here they all went down to the harbour and threw a huge amount of tea into Boston Harbour – worth between $1Million – $1.8 Million. (Can you tell I have been listening, reading and learning on this trip? Educational.). Another interesting site was the Granary Burying Ground, got two very interesting stories about this place. I won't go on about them now, but ask me when I get home, very funny. Click here >>[/url] for more on the Freedom Trail.
Obviously though the highlight of my visit to Boston was at a bar on Beacon Hill. The bar in question was the inspiration for the TV show 'Cheers'! I got a great cheesy photo next to the Cheers sign outside, then headed inside to see if everybody knew my name.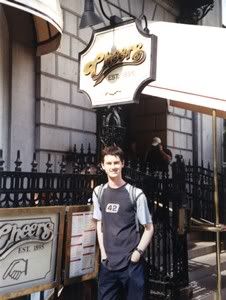 Did they? Not one person knew my name! The theme song is all lies! (In case you are really worried, I didn't really do the last bit, but I should have, surely its been done before!) Click here >> for more on the Cheers Bar.
That was Boston really! A very pleasant normal place – normal in the fact I have no wierd things to say about it which I am quite unhappy about (You might guess that I like telling you about the wierd things I see). Anyway, I wasn't completely disappointed as a met a freak on my last night in Boston! Got to thank him actually for being so strange, otherwise my e-mail would have been even more boring to read.
Yeah so I was returning to my dorm room on my last night in Boston and when I walked in, it was as if I had just walked into a TV show off one of those religious TV channels on Sky Digital. A 40 yr old guy from California was talking to the 2 guys from Taiwan (who I already knew) about Lord Jesus Christ, and also he went on to talk about Gospel Magic. Now there is nothing wrong with being religious but this guy was seriously way over the top! Some of the gems he came out with…..
– Apparently I am a saint, you are a saint, we are all saints!
– When he found out that I was checking out the next day to go down to D.C. He said that it was o.k. – He would catch up with me in heaven!
– He gave me a little 'Know your future' booklet and told me to read the good book – the bible.
– When all ready for bed and the light was switched off, he asked us all if he could say a prayer for all of us, so he said a prayer out loud before bed.
– The following morning he was sitting next to reception reading his bible, he then read me a section – At this point at 6:30am as I am checking out, tired, with a long day travelling ahead and all my fake smiles used up the night before, I just said – O.K. erm, thanks. Then I said bye. I was surprised he didn't use the 'catch you in heaven' line again.
Can I just thank all the freaks I have met on my trip for giving me great e-mail material.
So, I left Boston and headed down to Washington D.C. which involved 2 coach journeys, and a total travelling time of 10 hours. I had a brief 20 minute visit to New York City on the way too!
While in Washington D.C, I went to the Washington Monument – tried to get a ticket to go up to the top of the famous stone monument but they had been sold out for 3 days so that didn't happen!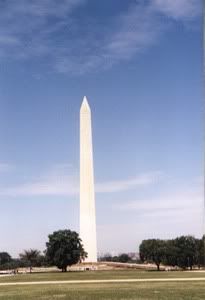 Then I wandered up the National Mall towards the Capitol Building. It was very hot in D.C by the way, mid 90's F. On the way, I popped into the National Air & Space Museum (I say 'popped' into, but I ended up staying in there for a good 4-5 hours when I only planned about an hour!) Best Museum I have been to on my trip. Apparently its the most visited museum in the world. I went to see a great IMAX 3D film while there – all about the International Space Station – Brilliant. Click here >>[/url] on the National Air and Space Museum.
After a look around the Capitol building I walked up to the other end of the Mall to the Lincoln Memorial and the reflecting pool.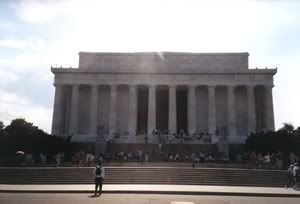 Then it was over to the White House to wave to George from the fence. The White House isn't as big as I thought it would be!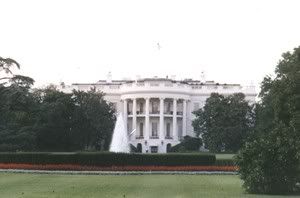 The final place I went to was the FBI building, sadly along with most of the other attractions I mentioned, all tours are suspended until further notice for security reasons. The FBI tour won't re-open until at least 2006.
Today I left D.C. and arrived in the final travel destination of my 7 month trip – New York City! After spending ages deciding which hostel to stay in while here, I went for location, location, location – half a block from Times Square! I really can't believe just how close I am to Times Square! I might have been on MTV's TRL today! They did a OB outside the studio! First impressions so far of NYC are very good!
So I have 1 week left of my trip. I hope to have a really good last week in NYC to end an amazing trip. I'll be home next Wednesday (18th).
Speak soon
Terry 😀