New York City, USA
Hello Everyone,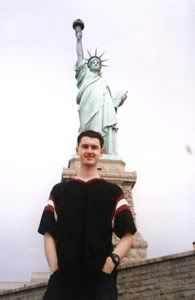 How are you all? I am doing great! I have been in New York City for the last week, and what a place to finish my trip, its been brilliant. I arrived from Washington D.C. last Monday by bus. I walked to my hostel from the bus station, now I knew it was close to Times Square, but it turned out to be very close, brilliant location just half a block away from it!
Times Square is always buzzing.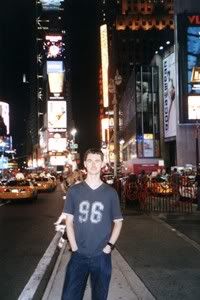 You have a few TV Studios around T SQ so at various points of the day there are crowds gathered all around the area. MTV have their studios here so at 5pm everyday, their main show, TRL starts and the crowd gathers outside. The other day I stood outside the studios (in the rain with all the other idiots) to try and get on tv and to also see the Black Eyed Peas who were guests on the show. I was successful on both counts but got soaked. T Sq by night is brilliant, the bright lights and the atmosphere make it really good! Also known for its big screens at either end of the Sq, I got my face put on a big screen for about 30 seconds as the star of a HSBC advert! Couldn't care less about the HSBC part, just good that I managed to get my ugly mug on the big screen! It was free too, bonus. If you want a good laugh look below…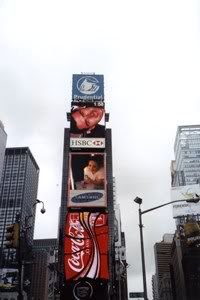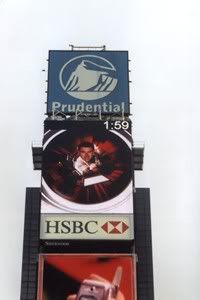 I got around NYC by subway, its so easy to get around this way. You have no chance on the roads, its chaos! The first place I visited was the United Nations Headquarters which isn't on U.S. Soil! International Territory apparently! I wanted a good photo outside the HQ with all the flags flying high, but I was disappointed when I got there as there were no flags up! This is because they are building a security fence around the HQ. Still gutted! I saw a few of the famous rooms/chambers in there though, such as the security council chamber which was good.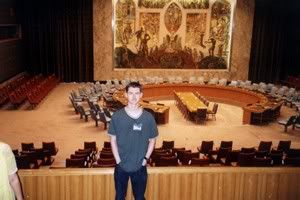 I headed down to Lower Manhattan another day to visit Ground Zero. I have to say I felt wierd just by deciding to go down there to have a look. I went anyway, and felt very very strange when I was looking through the fence. I didn't spend too long looking as I was getting very angry at other people – They were taking photos, photos of themselves with ground zero behind them – they were smiling posing for the photos, which obviously just isn't right. Its sick. Also walked a few blocks down to Wall St to see the New York Stock Exchange.
One of the major attractions in NYC is obviously the Statue Of Liberty, I headed down to the tip of Manhattan to Battery Park to catch the ferry over to Liberty Island. The statue is a lot BIGGER than I thought it would be – which is strange because others in the hostel thought it looked SMALLER than they thought!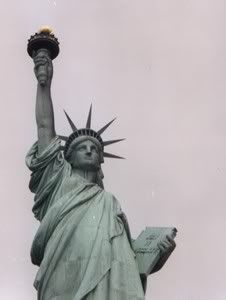 They have recently reopened the Statue of Liberty so you can go inside it, but I didn't bother as you can only go as far as the top of the stone base. They had some tacky souvenirs there! Then before heading back to Manhattan I went to Ellis Island to visit the Immigration Museum there which was actually very interesting! It used to be the main Immigration checkpoint in the late 1800's/early 1900's into the states. Again, very educational, and very interesting. Got a great view of the NYC skyline from these two islands by the way!
Now I'm not much of an art fan, but throughout this trip I have tried new things and I decided to go and visit the Guggenhiem Museum, to be honest I was going to see the building itself as its a spiral like structure – really good actually.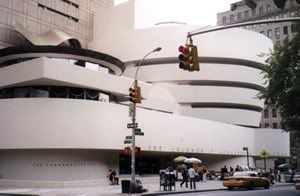 When I got inside I actually liked it in there! Which worries me a bit, as there were a few dodgy exhibits. Didn't understand them but hey, it was my first time trying to appreciate a big block of wood shaped into a egg, and things like a photo of a bloody hand hanging off a piece of wire. (that was a tame one).
Empire State Building was next, which was just lines and lines, waiting and waiting! By the time I moved through the line, and all the security checks, I got up to the observation deck on the 86th floor 2 hours later – by this point visibility wasn't great thanks to Hurricane Charley heading up the east coast. I could see the main buildings nearby but couldn't see Central Park! Also at the building they have another attraction called the New York Sky Ride, known as a 'virtual reality' ride of New York, but it was really you sitting in a chair that moved slightly while watching a cinema screen – it was alright!
I have found New York to be very safe, the safest city I have visited in USA. That will probably surprise you, it surprised me too.
So yesterday I braved the weather and walked through Central Park (had to before I left), sadly I didn't manage to walk over Brooklyn Bridge as planned due to the heavy rain. So finished off shopping!
A few wierd things….
– The worst street entertainers ever in Battery Park, no talent what so ever. Funny though. Also when in Battery park – National Pakistan Day Festival!
– A guy that has nothing better to do stands in Times Square with a sign saying 'Bush Couldn't Run A Laundromat'.
– It was national underwear day one day last week and Times Square was full of flesh, joining the regular fixture of the naked cowboy playing songs in the centre of the square.
– Best saved til last, A Japanese couple using their camcorder to film each other eating Hash Browns in McDonalds.
So Today I head home ending my trip early on tomorrow (Wednesday) morning. At which point I will ditch my 'shammy leather' like magic wafer thin travel towel, and I'll be lashing my money waist wallet (my trusty safe) that has been glued to me for all these months.
Summary of my trip…..
– My Trip has lasted 214 Days,
– Flown on 15 planes clocking up 35,000 miles,
– Lost count the number of buses/coaches I have been on but clocked up over 18,000 miles,
– 5 Countries,
– I have stayed in 75 Towns/Cities,
– Met lots of great people from around the globe,
– Encountered a few freaks,
– Met the locals,
– The mosquitos loved me,
– So did the sandflies,
– & the bed bugs.
– The major activity I did involved jumping off a cliff into a canyon
– I met the legend that is Harold Bishop, highlight of my trip obviously.
I think it will take a week or so to get back to normal life, I wouldn't be surprised if I bring down my bed linen on Thursday morning expecting my key deposit back off my mum, or I'll probably buy food and write my name, room number and departure date on it and stick it in the fridge in a carrier bag.
Thank you to those people who have posted messages while I have been away, I have really enjoyed receiving them all over the last 7 months, great to read especially as I have been travelling on my own.
When I get home I'll need a bit of time to sort out the hundreds of photos I have taken, but I'll be able to show you them at some point soon. I'll be meeting up with all my friends and family very soon, and also to the people I met on my trip, I hope to meet up with you soon too.
I have had a great time in the 7 months I have been away, I can't sum up 7 months of my trip in one sentence, feel free to ask me how it went and stuff when I meet up with you all.
All I can say is that it was AMAZING.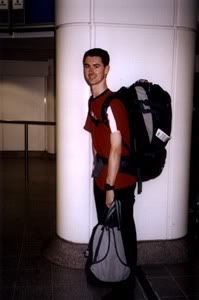 I'm going home to sleep now. And eat decent crisps. And to play with my new Ipod. Then I'll get a job……start saving up for my next adventure…….
Terry 😀
A quote I saw in a hostel in Seattle –
"The world is a book, those who do not travel, read only a page."
……..Its so true.