Despite on-going legal battles a judge has upheld the new law to stop tourists from entering cannabis cafes and smoking weed in the Netherlands.
A new travel dating site has been accused of facilitating prostitution by allowing users to pay beautiful travellers for 'discreet affairs' and 'mutually beneficial arrangements'.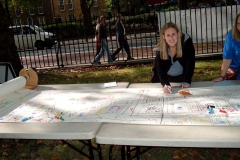 An artist has won last month's Cuba competition. Doodler Rosie Brooks will now experience the exciting flavour and charm of the Caribbean island.
The video of American adrenaline junkie Dean Potter walking a slackline across a canyon in China 1,800m above sea level has been a hit on social media.
A backpacker studying at the University of Sussex has won our recent South East Asia competition and will visit Thailand, Laos and Cambodia.
Gideon Sundback was honoured by Google with his own doodle today, and he owes it all to taking a gap year after his wife's death to perfect the design of the zip.
Three Welsh tourists are to appear in court Down Under after drunkenly swimming with dolphins and stealing a penguin from Sea World on Queensland's Gold Coast.
Kony 2012 campaigners are preparing to hit the streets all around the world tonight in an effort to further raise the profile of African warlord Joseph Kony.
There has been a surge in the number of UK students applying for a working gap year ahead of university, according to a leading work placement charity.
An Australian brewer has started recruiting for the winter version of the 'world's best job' by offering cash, accommodation and free beer to succesful applicants.