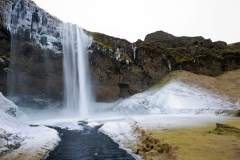 Iceland has been running a marketing campaign like no other; to rename the country. After more than 25,000 entries, the contest is now down to two names
An extremely large paw has been found in the woods in Massachusetts, USA, and it is thought to be Bigfoot's. Definitely Bigfoot's and not a bear's.
There are some crazy cats in this world and this is one such guy. This video depicts a man riding a 14.5-foot-tall bike that he built himself around the streets of LA.
After weeks of campaigning and hundreds of thousands of entries, Tourism Australia have finally announced their shortlist for the 'Best Jobs in the World'.
A man has diced with death after fighting off a crocodile in Northern Australia. Yoann Galeran, 29 had to repeatedly punching the croc until he was able to get free.
If you shred the slopes you know that doing a backflip ain't easy. Imagine 30 people doing it. All at the same time. Because that's what's just happened.
Google Hyperlapse is a new free online tool that uses Google Street View images to create a personalised animated road trip that really brings your trip to life.
New city tours led by the homeless will show travellers the city of Bath's main tourist attractions, including the Crescent, the Roman Baths and the Abbey.
Rio de Janeiro is looking to clean up its image. So much so that they've asked Google to remove the word 'favela' from some of its maps of the city.
If you hate flying then you're not going to be a happy about this one. According to a new study, air turbulence is likely to go up by 10-40% by 2050.