19 year old Chinese backpacker Ju Peng has come up with a novel way to fund her travels: by offering her body for sex to any man who is willing to pay her way through China.
In 10 years the aviation industry could introduce windowless planes to reduce weight and cut costs. Entire fuselages would have smart screen technology, making them appear transparent.
Safety videos are one of the most important, yet tedious, things about a flight. That is unless you're a Lord of the Rings/Hobbit fan and flying with Air New Zealand. Then you get this.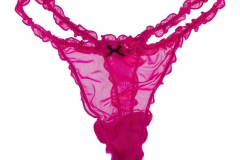 A man who woke from a colonoscopy to find himself wearing pink knickers is suing for damages. He claims he became the victim of the prank while under anaesthesia.
In response to concerns over sex tourism and the country's reputation, Denmark has decided that it's about time they introduce a ban on bestiality. Yes, this is real.
Hundreds of Star Wars fans have united to make one epic remake of Star Wars: The Empire Strikes Back. It's all cardboard, all animation, and all cats and dogs. Just watch it.
Advertisers can go to great lengths to grab their audience's attention, but this local travel company's advert is utterly baffling. Surely they've made it so horrendously awkward on purpose?
A Wildlife Park in Switzerland has faced criticisms from animal welfare supporters after serving its own animals at its on-site restaurant. Well, it's one way to get close to the animals.
An excursion company believes that it will be able to send paying passengers on six-day voyage to the moon and back by 2018. Warning: it is eye wateringly expensive.
One man and his dog... and a 6ft testicle. For the last month, Thomas Cantley has been rolling an inflated testicle across the USA in an attempt to raise awareness of testicular cancer.