There are many reasons why flying in economy class can be terrible, but few are worse than an unwanted neighbour. This airline offers a way out.
The first map of Disneyland in California, annotated by Walt Disney himself, has sold for over £550,000 at an auction in Los Angeles.
Doing damage to your job prospects is one of the biggest worries for people going travelling. Now a survey shows travel can make you more employable.
For a few days only visitors to Paris can zip line off the Eiffel Tower. Zip lining off things is really cool, and we like France a lot.
We all post travel photos on social media. But now the Swiss village of Bergűn has banned tourists from taking photos and posting them online.
Can you guess how many planes are in the sky right this moment? We bet it's more than you think, and these stats reveal the staggering truth.
Overbooking of flights and the bumping of passengers has been in the news a lot lately. Canada is introducing rules to protect passengers.
The Italian city of Venice is now enforcing a new law to crack down on fast food, including slices of pizza. What does this mean for you?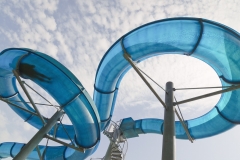 Virtual reality has long been promising to make a splash in the travel market, and now the world's first virtual reality waterslide is coming soon.
We've been waiting forever for Qantas' non-stop service between London and Australia to launch, and now tickets have finally gone on sale.