Can you guess how many planes are in the sky right this moment? We bet it's more than you think, and these stats reveal the staggering truth.
Overbooking of flights and the bumping of passengers has been in the news a lot lately. Canada is introducing rules to protect passengers.
The Italian city of Venice is now enforcing a new law to crack down on fast food, including slices of pizza. What does this mean for you?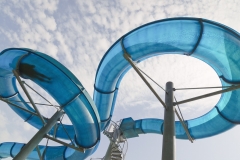 Virtual reality has long been promising to make a splash in the travel market, and now the world's first virtual reality waterslide is coming soon.
We've been waiting forever for Qantas' non-stop service between London and Australia to launch, and now tickets have finally gone on sale.
Bangkok is capital city of the world for street food, but possibly not for much longer – authorities have banned street food from the city.
We've all dreamed of owning our own zoo probably, and now a working Florida zoo has been put for sale on classifieds site Craigslist.
Airline cabin crew are there to keep passengers safe and make sure every flight runs smoothly. Apparently they're also there to deliver babies.
A bull shark, a type known to attack people, washed up on a quiet Australian street after a tropical cyclone has passed through the area.
As part of their newest promotional campaign in Germany, the Mexican tourist board has invented a cloud made entirely of tequila.