As part of their newest promotional campaign in Germany, the Mexican tourist board has invented a cloud made entirely of tequila.
Iceland has become so popular with international visitors that the government is considering raising the taxes tourists are required to pay.
Authorities have put limits in place at Cambodia's Angkor Wat temple complex to keep tourists from ruining the famous sunsets.
Budget airline EasyJet has operated a flight with a crew made up entirely of women in order to celebrate International Women's Day.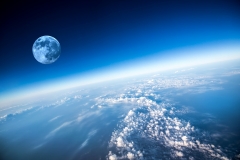 The US-based company SpaceX, founded by Elon Musk, has booked two passengers for a trip into space and around the moon next year.
Dubai has revealed ambitious plans for a skyscraper hotel where every single floor can rotate independently of any of the others.
John F. Kennedy International Airport, which services New York City, is opening a new $65-million terminal just for travelling pets.
Women in India have been knitting colourful jumpers for rescued elephants as temperatures at night plummet to near-zero. Fabulous.
Brutus the supermarket cat, who visited the same Morrisons branch every day before he died, will be immortalised with his own statue.
UK travellers could face higher roaming charges when visiting the EU after Brexit, according to a leaked report from the EU parliament.